Inspiring Ideas. Inspiring Action. Inspiring Small Business.
Don't miss the small business sales and marketing event of the year! Join over 2,000 entrepreneurs from around the world as they gather to learn, network and implement new ideas that will make their businesses more successful. Register now.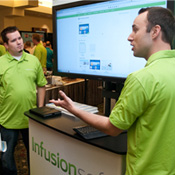 Don't miss out on what is destined to be the greatest InfusionCon ever. Space is limited (remember, last year's event sold out early and latecomers were turned away at the door).